Attract More Customers with Google Adwords Pay-Per-Click Advertising
Today it's essential to have a well-designed website because it's a very effective way to promote your business and to represent it with a professional image. Having a website also allows potential customers to instantly learn more about your business, and at the same time gain a greater sense of confidence in your company. As a result, a website is a highly useful marketing tool for finding new customers who are looking for the types of services that you offer.
A company website is the first step in attracting Internet customers. In order to maximize the marketing value of your website, though, you'll want customers to easily find your site. Google Adwords Pay-Per-Click is a very efficient way to quickly get your website to the top of the first pages of Google, which can help increase your flow of business.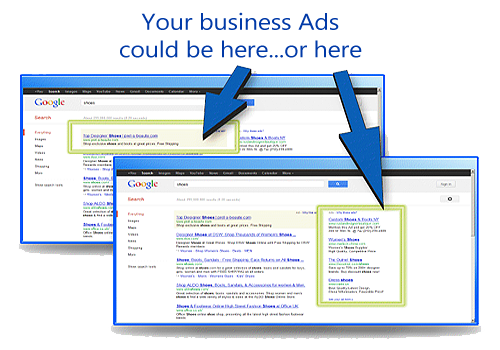 Adwords Pay-Per-Click works by displaying highly visible ads on Google that show up when an Internet user types in the keyword search terms that describe the services they're looking for. You only pay "per click" when someone who's searching for your service clicks onto your ad and is then brought to your website. While potential customers are visiting your website, they can give you a call or send you an E-mail inquiry.
You pay only for the clicks that go to your site, and there's no contract or hidden costs involved. You control your cost per click and budget amounts, and since there's no contract you can turn your Adwords account on and off quickly and easily whenever you'd like to.
For a reasonable fee, we'll set up your Google Adwords account for you. Here's our pricing structure:
$  75 – One-time set up fee includes: One Adwords Campaign with up to 5 city locations, plus basic Google Adwords account management training and orientation.
Let Google Adwords put your business on the cutting edge of today's marketing strategies!